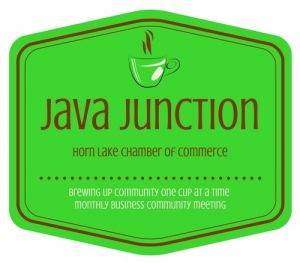 Java Junctions – Brewing up community one cup at a time
These monthly breakfast meetings are a melting pot of different members and non-members coming together to share in community and learn what is new, who is new and how they can engage with the community.
We discuss upcoming Chamber events and opportunities for sponsorship. Many lasting business connections are born at these events.
Java Junctions are sponsored by different businesses each month and are held at various locations including Horn Lake City Hall.
Quarterly Luncheons
Quarterly luncheons are designed to spark Chamber members minds with new ideas and to increase knowledge in various areas that are important to businesses.
Each luncheon is hosted at different location such as the Landers Center, First Choice Catering, or Bonne Terre.
Luncheons are another great opportunity to businesses to meet and make new connections with other like-minded individuals.
Annual Chamber Golf Scramble
Each year, our Chamber hosts a golf scramble at North Creek Golf Club that see 20+ teams coming out to enjoy a day of food, fun and golfing.
This event gives an opportunity for businesses to support the Chamber by sponsoring a hole, or participating with a team and hole sponsorship
Local businesses cater the lunch and dinner for the golfers and door prizes are donated by various businesses.
The best part of the event is that a portion of the proceeds go to a charity of choice selected by the Chamber Board of Directors.
Annual Chamber Awards Banquet
The Chamber banquet is elegant event held yearly to honor those that have given of their time and talents to the benefit of the community and the Chamber.
Awards are presented to the Man of the Year, Women of the Year, Business of the Year, Business on the Move Award and Chamber Champion of the Year. We also honor our outgoing Chamber Board President.
The Chamber Banquet provides a year in review and a chance for the Chamber staff to project the vision for the upcoming Chamber year.
Annual Christmas in the Park
This event had its debut in 2017 and was a huge hit with our community! Businesses that participate in this event are asked to decorate or set up a Christmas themed vignette that can be interactive for those that are parading through the park. The Horn Lake Eagle Pride marching band plays in Santa and then we light the Christmas tree to signify the start of the Christmas season in Horn Lake. Santa stays after to visit with the children and hot chocolate and cookies are served. This is a wonderful family friendly event that can be enjoyed by all!
Master your Membership
This quarterly event is designed to help members "master" their membership by learning out to take advantage of the different marketing, advertising, and sponsorship opportunities available to them.
Master your membership is a way for new members to learn how to utilize their Chambermaster listing, hot deals and job listings.
This meeting is also a great way to meet new and vested members as well as learn the benefits of becoming a Chamber Champion